"Grateful to be included along with such great writing. A number of the pieces really touched me and continue to resonate."
Brian Braganza, Featured Author in Issue 39.1
---
Fall/Winter 2023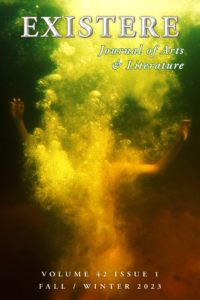 Curiosity is one of the many markers of intelligent life, and a quality humans have in abundance.
In this edition, contributors seek understanding in different stages of reality. On this journey, the material is made metaphorical and wakefulness is but one medium of comprehension.
Our release features beautiful artwork by Shannon Louise Barry, Emily Clements, Carella Keil, Hilary Porado, and Anna Vagramova!
Issue 42.1 presents new fiction, non-fiction, and poetry pieces by Alexander Corby, Lindsey Danis, Chris Hutchinson, Craig Ludtke, Andrea Marcusa, Kaye Miller, S.M. Pearce, Eric Rausch, Kelly Reffitt, Libby Miles, Xiaowen Zeng, Despy Boutris, Elara Ketelaar, Young Fenimore Lee, Sharon Lopez Mooney, Brian Purdy, and Nnadi Samuel!
We thank all the talented and devoted individuals who helped make this issue possible.
Purchase your digital copy today at the York University Bookstore!
---