"Grateful to be included along with such great writing. A number of the pieces really touched me and continue to resonate."
Brian Braganza, Featured Author in Issue 39.1
---
Fall/Winter 2021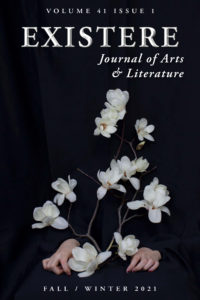 For this edition, many of our contributors have looked to the past—their own or their characters'—for inspiration, understanding, or the simple joy of a happy memory. Dwelling on the harshest injustices, both personal and societal, experienced and perpetrated, these narratives generate a palpable tension: what has been should not be forgotten; what is to come cannot be ignored.
Our release features beautiful artwork by Martins Deep and Sijia Ma!
Issue 41.1 presents new fiction, non-fiction, and poetry pieces by Dave Gregory, John Oliver Hodges, Ripley Nolan, Rachel Peters, Terry Sanville, Seb Turco, Sam Wiebe, Elise Clemens, Karen George, Joey McIntyre, Jennifer Robinson, John Grey, Bill Howell, Leslie B. Neustadt, Margaret D. Stetz, Alex Verge, and Yuan Changming!
We thank all the talented and devoted individuals who helped make this issue possible.
Purchase your digital copy today at the York University Bookstore!
---