"Grateful to be included along with such great writing. A number of the pieces really touched me and continue to resonate."
Brian Braganza, Featured Author in Issue 39.1
---
Spring/Summer 2022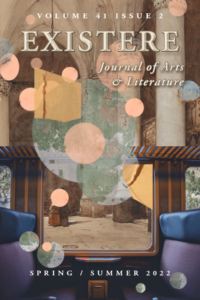 Preconceptions are inherently un-creative.
In this edition, contributors force us to stretch our conception not just of storytelling, but of fact and fabrication. Their writings bond past to present, blending sober imagination with apocryphal reality. Readers: you'll be stripped of expectation, and encouraged to create your own definitions of truth and fantasy, history and dream, genre and form.
Our release features beautiful artwork by Ana Prundaru, Alex Maeve Campbell, and Patricia Saxton!
Issue 41.2 presents new fiction, non-fiction, and poetry pieces by Hannah Huff, Maia Kowalski, AJ Cunder, Tosh Sherkat, Linda Walsh, John Biglands, Scott Pedersen, Greg Rhyno, Vic Larson, David Halliday, Mark Foss, Su Croll, Sara Naz, Judith Pond, Hollie Dugas, Laura Schulkind, Treava Ann Kellington, Mandira Pattnaik, and Fiona M. Jones!
We thank all the talented and devoted individuals who helped make this issue possible.
Purchase your digital copy today at the York University Bookstore!
---