Our editorial team has worked passionately to bring you the newest issue of Existere — Journal of Arts & Literature. We introduce you to The Fall/Winter Volume 41 Issue 1.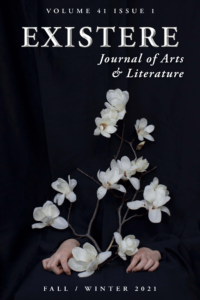 In Issue 40.2, we considered the circuitous stir of time—its warp, its whirl, its weft. Now, the zeitgeist seems to have shifted. Time has started moving forward again.
For this edition, many of our contributors have looked to the past—their own or their characters'—for inspiration, understanding, or the simple joy of a happy memory. Dwelling on the harshest injustices, both personal and societal, experienced and perpetrated, these narratives generate a palpable tension: what has been should not be forgotten; what is to come cannot be ignored.
A special thank you to all the talented individuals who contributed to this issue.