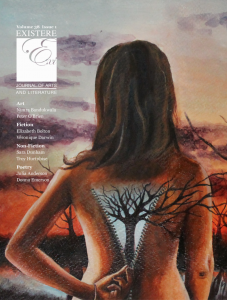 As the zipper falls and reveals every storyline, we embrace the words pouring over us. We connect with each notch and each letter rushing past our gaze. My team and I crafted Existere Volume 38 Issue 1 to represent the cycle all writers, readers, poets, artists and audiences experience while interacting with art and literature. First, we see it. Next, we'll look into its depths and begin to uncover all of its hidden gems. Soon, we'll watch as the sun sets on our brief encounter, ready and waiting to rise over the horizon to greet us again once more.
I invite you to explore this shared experience with us as we move through Julia Anderson's "Blind Fate," Sara Dunham's "Children of the Night," Nimra Bandukwala's art portfolio and so many more. Together we will experience self-actualization in Fabrizia Faustinella's "The Ride," a poet's unruly journey in Sanket Mishra's "To Be A Poet" and a nation's union in Troy Hurtubise's "The Ranger Station."
Welcome every nuance sewn into the zipper threads, immerse yourself in the brush strokes and rhythm of each art portfolio, absorb the messages and lessons learned throughout the storylines—we will be right there with you.
Writers in order of appearance:
Julia Anderson
Elizabeth Bolton
Bruce Harris
Sara Dunham
Fabrizia Faustinella
Sanket Mishra
Véronique Darwin
Bruce McRae
Carmen King
Vincent Poirier
Troy Hurtubise
Donna Emerson
Artists in order of appearance:
Zhimin Liu — Portfolio
Nimra Bandukwala — Portfolio & Cover Art
Peter O'Brien — Portfolio
Editorial:
Lauren Dick
Reviews in order of appearance:
The Curriculum Won't Change For Us: A Review of Cherie Dimaline's The Marrow Thieves by Evan J. Hoskins
A Layman's Review of Nikki Sheppy's Fail Safe by Sophia Yan
Available at: