Existere Volume 40 Issue 2
Our editorial team has worked passionately to bring you the newest issue of Existere — Journal of Arts & Literature. We introduce you to The Spring/Summer Volume 40 Issue 2.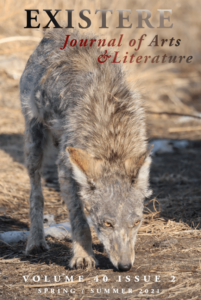 Issue 40.2's release comes alongside the one-year anniversary of the COVID-19 pandemic's beginning. Time continues to waver on, a non-stop dial spinning vigorously day by day. Even so, that dial shows us that time heals, no matter how little. The story that emerges from the works in this issue shares the message that in our isolation, no matter our hardships or struggles, we are not alone.
Despite the COVID-19 pandemic placing us in these unprecedented times, our editorial team is pleased to present our readers with our new issue.
We thank all the talented and devoted individuals who helped make this issue possible.